Excellent Reasons if I do say so myself.
The gentlemen down at The Albany Distilling Company have done it again. On March 23rd Matt and John released a new product to their already wildly successful line of spirits. Quackenbush Still House Rum's debut was announced by being accompanied with a presentation on rum and it's history in Albany. Speaker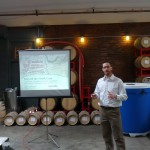 Justin DiVirgilio gave an amazing presentation on the history of still houses and rum production in the city of Albany. Rum's history in Albany literally sits on the doorstep of the current Albany Distilling Company, one of the still houses Justin spoke about resided maybe a couple hundred feet from where Matt and John currently distill their products.
Matt and John are both well aware of this history, and while both are self-admitted whiskey enthusiasts, they knew from the very beginning that they wanted to produce a rum from their distillery as a homage of respect to the former rum still houses in Albany and the excitement to be the first to distill this city's first rum since prohibition. Accomplishing this task was no small feat. As I have written about before, Albany Distilling Company operates under the New York State Farm Distillery License, which states that 75% of a product's ingredients need to be sourced from New York State. Rum, if you do not know, is made from sugar cane and/or molasses and unfortunately there are no sugar cane fields in New York. Matt and John needed to apply for an additional distilling license to be able to produce the rum and source their molasses from the Caribbean as they wanted to follow the recipe of their predecessors. Along with the hurdle of the additional distilling license needed the produce the rum, other rules of the Farmers Distillery License they are also unable to provide samples or sell the rum on their premises at the distillery. Don't worry though Quackenbush Still House Rum is very available in both drink and bottle form very close to the distillery and throughout Albany.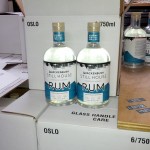 After the presentation and hanging around the distillery a while I set off to get a bottle of the Rum. A quick visit to one of my local liquor stores and I was able to take a bottle home for a taste. My first taste of the rum was a glass with just a little bit of ice added and it was outstanding, I continued to to drink 2 more glasses the same way. This is a flavorful, full, and rich rum. So easy to drink and so tasty each time you take a sip it's really a great spirit, Matt and John have hit a home run with this rum being their homage to this city's history with this spirit. I look forward to visiting several of the local bars and seeing what the bartenders have mixed up with this fantastic product now on their shelves there are sure to be some excellent drinks out there as there has been for each of the previous Albany Distilling Company products.
You can also read about Matt and John in the current issue of the Metroland
As always please feel free to visit the distillery and take a tour – Matt and John are ~almost always~ there and they are just awesome to listen to talk about their distillery, products and processes.
As a Maker's Mark Ambassador I get informative emails from the company from time to time. Usually they are a fun, seasonal/holiday message or some details about some upcoming Maker's Mark events etc. But the most recent email we Ambassador's received is, I feel, something particularly noteworthy. Most of you may have heard or seen the news already but I thought it was worth posting here.
Dear Maker's Mark® Ambassador,

Lately we've been hearing from many of you that you've been having difficulty finding Maker's Mark in your local stores. Fact is, demand for our bourbon is exceeding our ability to make it, which means we're running very low on supply. We never imagined that the entire bourbon category would explode as it has over the past few years, nor that demand for Maker's Mark would grow even faster.

We wanted you to be the first to know that, after looking at all possible solutions, we've worked carefully to reduce the alcohol by volume (ABV) by just 3%. This will enable us to maintain the same taste profile and increase our limited supply so there is enough Maker's Mark to go around, while we continue to expand the distillery and increase our production capacity.

We have both tasted it extensively, and it's completely consistent with the taste profile our founder/dad/grandfather, Bill Samuels, Sr., created nearly 60 years ago. We've also done extensive testing with Maker's Mark drinkers, and they couldn't tell a difference.

Nothing about how we handcraft Maker's Mark has changed, from the use of locally sourced soft red winter wheat as the flavor grain, to aging the whisky to taste in air-dried American white oak barrels, to rotating our barrels during maturation, to hand-dipping every bottle in our signature red wax.

In other words, we've made sure we didn't screw up your whisky.

Thanks for your support. And if you've got a little time on your hands, come down and see us at the distillery.

Sincerely,

Rob Samuels
Chief Operating Officer
Ambassador-in-Chief

Bill Samuels, Jr.
Chairman Emeritus
Ambassador-at-Large
So Maker's Mark – A veritable staple of the Bourbon culture is going to take it's 45% ABV signature bourbon and bottle it at 42% ABV to bridge this gap.
Items to note from the letter:
No time frame for this change was given
No mention if there will be any change for the 47% ABV Maker's 46
So discussion … is this the right move for Maker's Mark? Are there other options?
Previously, on this blog I wrote about the Knob Creek bourbon shortage and their choice of 'going dry' until the next batches of Knob Creek were ready to bottle. I think it is a very interesting "problem" to have (being out of Bourbon due to demand) that can have different methods of rectifying the situation until things stabilize.
Additional Reading:
http://money.cnn.com/2013/02/10/news/makers-mark-bourbon/
http://www.usatoday.com/story/news/nation/2013/02/11/makers-mark-bourbon/1910773/
http://www.npr.org/blogs/thesalt/2013/02/11/171732213/less-potent-makers-mark-not-going-down-smooth-in-kentucky
Some time ago I had the pleasure of exchanging some tweets with @halfpintmaggie who makes Rum for Privateer True American Rum in Massachusetts. After we chatted via Twitter for a bit Maggie offered to send me some samples of their products and I sent my address ASAP. What I received from Maggie was amazing – a bottle of their Silver Rum, a barrel sample of their amber rum, and a hand-written letter from Maggie which detailed the processes and step used to craft these products.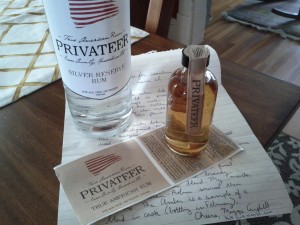 Just after receiving the samples I had gotten pretty sick and was unable to have alcohol for a while which meant these awesome bottles were just eye-balling me for weeks and honestly it was killing me. I have finally gotten better and have been able to drink again so tonight I decided to crack open that barrel sample of the amber rum and enjoy it while watching a soccer match.
The barrel sample I received was from batch #6 which, according to Maggie's letter, will be getting bottled in February. I'll take you through some of the highlights of Maggie's letter and her steps along the creation of this spirit before getting into my enjoyment of it. I have to say I knew I'd be hooked once I read the very first line of her detailing the processes for the amber.
I distill the amber taking cues from my whiskey background
Maggie goes on to explain that the spirit sees New Hungarian Oak in a cube form with a medium toast, followed by going into used bourbon barrels. Individually selected barrels for a batch are then married and proofed (to 100 proof) and then re-barreled to develop richness and harmony across the marriage. This married batch is then combined, filtered, and has a final proof done at which point the blend is casked in 3rd use brandy barrels. This my friends is just some of what was in Maggie's letter. It is obvious to see how much of a craft this is for her and how much effort she is putting into creating this truly unique and distinct product. Just reading about her processes has me wanting to make a visit out to their distillery to meet her and take a tour.
So – what did I think of the amber rum sample I tasted? It was excellent!
Pouring it into the glass – this rum has a beautiful (amber) color and it just looks great in a glass. I planned on tasting it neat first as I like to do when trying anything new and then maybe some ice or a splash of water to open up some notes etc.
The nose had a wonderful sweetness to it like the sugar base of many rums will have. I almost thought it might be too sweet, and I am happy to say I was wrong. The flavors that come through from the different barreling this spirit sees are just amazing, and that sweetness you get in the aroma just becomes a light smooth background for all the barrel flavors to gently blend with. Being a bourbon fan I like to drink many things neat, in the realm of rum however, this is generally something that is reserved for your higher end Appleton Estate, Mount Gay, etc. rums. Well before I knew it I had gone through the whole barrel sample and never added anything to it at all. I could drink this rum neat all day long, it is that enjoyable.
I really want to thank Maggie and Privateer Rum for being so nice to send off some samples to me. I really appreciated her taking the time to send me a package and to write the letter that came along with it. I still have the Silver Rum to break into and write about as well so stay tuned for that.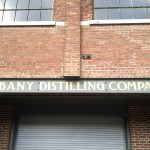 Last Friday I had the opportunity to attend the Grand Opening of Albany Distilling Company, and it was a great time!
Albany Distilling Company is the result of a two year long legal & financial process and the determination of two friends John Curtin and Matthew Jager who together had a vision of opening the first licensed distillery in the City of Albany since prohibition. Much of their vision became possible with the passing of the farm distillery license law, enacted in 2007. And just this month Gov. Andrew Cuomo signed legislation permitting licensed farm distilleries to sell liquor at fairs and markets and at the New York State Fair which will no doubt be a major benefit for Albany Distilling Company to get there product into the hands of the consumers in Albany.
Rehabbing an old building in Quackenbush Square, that is connected to the Pump Station and used to be its "coal yard", Matt and John have transformed the structure into an absolutely beautiful distillery space. Their 600 liter (158.5 gal) hybrid pot and column still is an amazing work of art.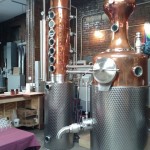 If you get a chance you should definitely stop by the distillery and have a look (and perhaps a taste) the building and still set-up are worth it.
The first product that ADC has available is their "Coal Yard New Make Whiskey" and this is one of the best white whiskies that I have tasted. It is surprisingly smooth for being an un-aged product. John told me that he and Matt only had to go to their third batch before coming up with the mash bill that they felt was right. The two have some of the same spirit currently sitting barrels that if all goes as planned will be available as "Ironweed Aged Whiskey" possibly by December. ADC has plans for a Rye, a Rum, and a Vodka in their future – all of which I am seriously excited about.
The Albany Distilling Company's grand opening was an awesome event and I have no doubt that Matt and John are well on their way to being very successful – I wish them all the best and plan on visiting them many (maybe too many) times.