4th of July Trip to Tuthilltown Spirits
Some great news came my way last week, the great folks of Tuthilltown Spirits were having the Grand Opening of their new tours, tasting room, and retail store. Suddenly my holiday weekend, that didn't have any special plans, now had something REALLY exciting in store. And the Tuthilltown Distillery is only a little over an hour drive from me.
I gave them a call and got myself and my wife a reservation for a late afternoon tour.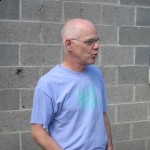 This turned out to be an excellent way to go as when we got there our tour was done by none other than Ralph Erenzo, one of the two partners that started Tuthilltown Spirits and a head distiller. I was definitely excited to have a tour by one of the owners and off we went. It is so interesting to see a small operation like this one up close, you get to see and hear the love and enthusiasm the staff have for their process and product.
First stop is the fermentation room, some people don't like the smell, but to me the smell of the yeast going to work and doing its thing is always an enjoyable aroma. Tuthilltown currently has a pretty broad range of spirits they produce. Their spirits line currently consists of two Vodkas, un-aged corn whiskey, rye, baby bourbon, four grain bourbon, single malt whiskey, and rum. Their entire line of products is spectacular but I absolutely love the Baby Bourbon and Four Grain Bourbon.
Next up are the stills, Tuthilltown currently uses two copper pot stills from Germany for its distillation processes. One large 200 gallon still and a smaller 100 gallon still. These two machines are a thing of beauty and Tuthilltown's distillation room is a lovely site.
After making our way past the stills we moved on to learn about the "real genius" part of their bourbon making process and why the Tuthilltown family of aged spirits have such a unique flavor profile.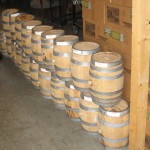 You see in most cases making bourbon takes a long time in the aging process taking up to several years before even knowing how your product is coming along and what its going to taste like. The thinkers and innovators at Tuthilltown tried something different. They ordered small charred new white oak barrels in 3, 5 and 7 gallons. During the aging and tasting process they discovered that using smaller barrels required only about 40 days per gallon to get the flavor they wanted and therefore the spirit in the 3 gallon barrels could be ready in roughly about 120 days. This is the genius that makes the Tuthilltown bourbons what they have become today, an outstanding world-class level spirits that is in demand locally, nationally and even world-wide with a footprint in several European countries.
Ralph was kind enough to share with us some information about the fact that taking this route, while it does produce a fantastic product in a much shorter time frame, is not however the most cost effective method to get the job done. This was a decision and gamble that needed to determined if worth making for the product to become what it is today. I for one am glad they took the gamble and made the decision to make their bourbon this way. And if you get the opportunity to drink some of their fine products you will appreciate it as well. In the end we learn that all Tuthilltown bottles are hand-dipped in wax, labeled one at a time and individually hand numbered. Ralph also told us that shortly they will have a new section on their website that will allow you to see the 'notes' associated with any particular bottle you have.
After the tour was over it was a short walk to the tasting room and retail store which allows visitors to taste the products that are made right there on the premises. Not only that but the store is also stocked full of their bourbons and a ton of other interesting distillery items and t-shirts. Yours truly left with an awesome "DISTILLERYMAN" t-shirt and a "Hudson Real American Whiskeys" etched nosing glass.
This was definitely a 4th of July to remember! Thanks again to all the staff at Tuthilltown Distillery. The tour, tasting, and shopping were a blast! I hope to make it back there a couple times this summer.
For more information on Tuthilltown Spirits:
http://www.tuthilltown.com << Be sure to join the email list & check the events page. http://twitter.com/tuthilltown << Their Twitter Feed