CORE Vodka by Harvest Spirits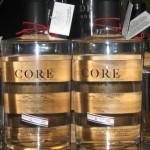 When you ask people about their feelings towards vodka you tend to get a pretty generic or unenthusiastic response like; "It's OK", "I'll have it as a mixer", "Vodka's Vodka", and so on. That is unless you ask someone that has had the good fortune to drink some CORE Vodka made by Harvest Spirits of Valatie NY.
CORE Vodka is the result of a collaboration between Tom Crowell, a brewery owner, and Derek Grout, 3rd Generation of Golden Harvest Farm. Harvest Spirits is holder of the first Farm Distillers License, they pursued this license to allow for farmers to make more money from their crops. You see… Golden Harvest Farm has an apple orchard and grows a lot of apples, you might even be able to say too many apples. So whats a (smart thinking) farmer to do with crop availability in excess of the demand? Not to mention crop that might be stored too long etc. That's right you guessed it – distill it and make some tasty vodka.
CORE is a triple distilled small batch vodka that is truly something unique and a delight to drink. It is such a treat to be able to go and visit a small operation like Harvest Spirits and talk directly to the people making the product. They do everything on site; fermenting, distilling, bottling, hand labeling & numbering. In one visit to the distillery you can see where the entire process takes place. That's pretty neat.
I feel it is important to note here that even though CORE is distilled from apples, this is not an 'Apple Flavored' vodka. This is a crisp, clean, and exceptionally smooth vodka that when drinking finishes with just a touch of sweet that is a reminder of the apples that are at its core. After introducing CORE to many of my friends it just spread like wildfire, and told their friends, and their friends, it was amazing soon everyone in or close to my circle was buzzing about CORE.
So look for some CORE at you favorite liquor store, and if they don't have it – tell them to call the guys at Harvest Spirits and get it. I am sure you will enjoy it and be sure to share with your friends too. By the way, while you are sharing with your friends, make yourself look extra smart by looking up the info about your hand-numbered bottle in Harvest Spirits really cool online distiller's notebook.
Further Info about CORE and Harvest Spirits:
http://www.harvestspirits.com/ << Harvest Spirits main site http://www.harvestspirits.com/core_vodka.html << CORE Vodka page P.S. Be sure to check out their "Work in Progress" page .. there is a VERY interesting project in the works that I plan to re-visit the distillery for and cover in a later story. {Hint: Woodford Reserve}